~Our wedding guests--grandmothers to grandkids, cousins and college friends--all had a fantastic time. Lots of them have told us this was easily one of the most enjoyable things about the whole weekend. The wedding toasts they composed from the clues they found on the hunt were the funniest part of the reception.
~Benjamin Mahnke & Elisa Derby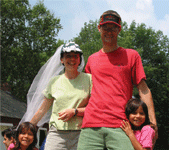 A Rootles® hunt has many affordable and environmentally friendly applications for wedding celebrations. In the past, couples have used our hunts as activities at destination wedding sites, for bachelor or bachelorette parties, wedding showers and rehearsal dinners; we've even created a hunt for a couple getting to know the area of their honeymoon. The possibilities for adding a uniquely engaging activity are truly endless.
Contact us to learn how Rootles® can add a unique aspect to your wedding celebration that will be truly memorable and during which you are as much of a participant as everyone else. We create hunts that reflect the two of you and create an atmosphere and structure in which no one is worrying about anything except getting to know one another, having fun, and solving their next clue. The addition of this comfortable, fun environment also allows the two of you to simply relax and enjoy the exploration and good time along with all of your guests. You can leave all the details to Rootles®.
When you contact Rootles®, with the details surrounding your event, we'll design some possible applications for a hunt and get back to you. At that time, we will also provide you with a ballpark on pricing and begin working with you to layout a hunt that will fit your budget, as we can modify our hunts to fit every price range. Ultimately, our promise and main focus is to ensure that the hunt will fit within the theme and style of your celebration.
Remember that at Rootles:
We've hidden what you're looking for…